Anti Tarnish Paper
Sale price

RM 10.00

Regular price

RM 0.00
RM 3.33
with 3 installments via
100% verified authentic 925 Sterling Silver
FREE Handwritten Gift Card
Shopee Store 5 Stars Review
Share
PRODUCT INFORMATION
Anti Tarnish Paper is the ULTIMATE most effective way to protect your silver jewelry from oxidation😱

ANTI TARNISH PAPER INFO :
📌 Material : Copper based polymers
📌 Usage : Store together with silver jewelry in any jewelry box / plastic airtight or ziplock bag
📌 Function : Protecting silver jewelries from oxidation & discoloration by absorbing sulfides & other air pollutants in the air that can possibly damage the silver jewelry
📌 Benefits : Safe, non-toxic, emit NO fumes & toxic gases, leave NO residue
📌 Duration : Last up to 12 months in an airtight bag (depending on how often the airtight bag is opened / the amount of exposure to air)
📌 Size : 2.5cm x 2.5cm


IMPORTANT NOTE:
👉🏻Anti Tarnish Paper DO NOT remove existing tarnish / oxide layer. Your jewelry should be in perfect non-tarnish condition when being stored with our Anti Tarnish Paper.
👉🏻 Duration might vary according to how often you open the airtight bag / jewelry box & take out the jewelry.
👉🏻 Anti Tarnish Paper should change every 2-3 months if the jewelry is being worn / took out from the airtight bag frequently.
1 x anti tarnish paper
3 x plastic ziplock bag
MATERIAL GUIDE
Material :
925 sterling silver with Rhodium plating ( Silver Color )
925 sterling silver with 18k Rose gold plating ( Rose gold )
Stone : Premium Cubic Zirconia
PRODUCT CARE [ SILVER & ROSE GOLD ]
Each TMS piece is exclusively crafted ONLY from sterling silver (92.5%). To keep your jewelry looking beautiful & long lasting, it is essential to follow the below care rules.
CARE RULES
#1 Do avoid direct contact with any chemicals like perfume, lotion, cosmetic products and etc. that may cause damage to your jewelry.
We recommend removing jewelry before applying any chemicals on your skin. Your jewelry should be the last thing to wear on in your everyday morning routine.
#2 Do remove your jewelry prior to bathing, sleeping or any physical activities for best maintenance.
#3 Do not leave your jewelry on moist open air surfaces.
We recommend to store your jewelry in the tarnish resistant jewelry box provided.
#4 Do handle jewelry with care & avoid knocking against hard surfaces for best maintenance.
CLEANING RULE
Oxidation on silver jewelry is not considered a defect, it is a normal wear and tear circumstance.
#1 Do use the silver polishing cloth provided to remove the oxide layer (dark particles) that may form on top of the jewelry in order to restore the shine.
** Silver polishing cloth can ONLY be used to remove oxide layer, but NOT scratches.
** Be sure to rub GENTLY on rose gold plated jewelry as the plating could be rubbed off due to harsh rubbing.
SHIPPING DETAILS
SHIPPING & DELIVERY

Parcels will be shipped out once payments are fully paid by customers within 24 hours. Please refer to the table below for shipping fee chargers & parcel estimated time arrival.


COUNTRY
SHIPPING FEE
ETA
COURIER

Malaysia

WM : FREE

2 - 4 days

DHL E-Commerce / Poslaju

EM : RM15

3 - 6 days

DHL E-Commerce / Poslaju

Singapore

RM25

4 - 7 days

Aramex International

Brunei

RM76

4 - 7 days




Aramex International




Other countries (Indonesia / Pakistan / Korea / Japan / Taiwan / Hong Kong / Australia & etc)

-
-
-

Please note that the days mention in the above table are working days (excluding weekends & public holidays).
IMPORTANT NOTE
1. Delivery of items may delay variably due to unforeseen reasons by courier service which is regretfully out of our control.
2. We DO NOT take any responsibility for any unforeseen delay of international parcel delivery caused by custom clearance process (especially during peak season).
3. We DO NOT take any responsibility for any lost parcels in transit.
TAX & DUTIES
Tax & duties are NOT applicable for all Malaysia parcels.
The responsibility for ANY potential custom duties, foreign taxes or other related fees shall be bared by parcel receivers.


ORDER TRACKING
You'll receive an order confirmation email with tracking number provided once your orders shipped & generally it takes up to 24 hours for the tracking number to be activated.
The given tracking number can be track with https://www.tracking.my/dhl-ecommerce or https://ecommerceportal.dhl.com/track/ .
SIZE MEASUREMENT GUIDE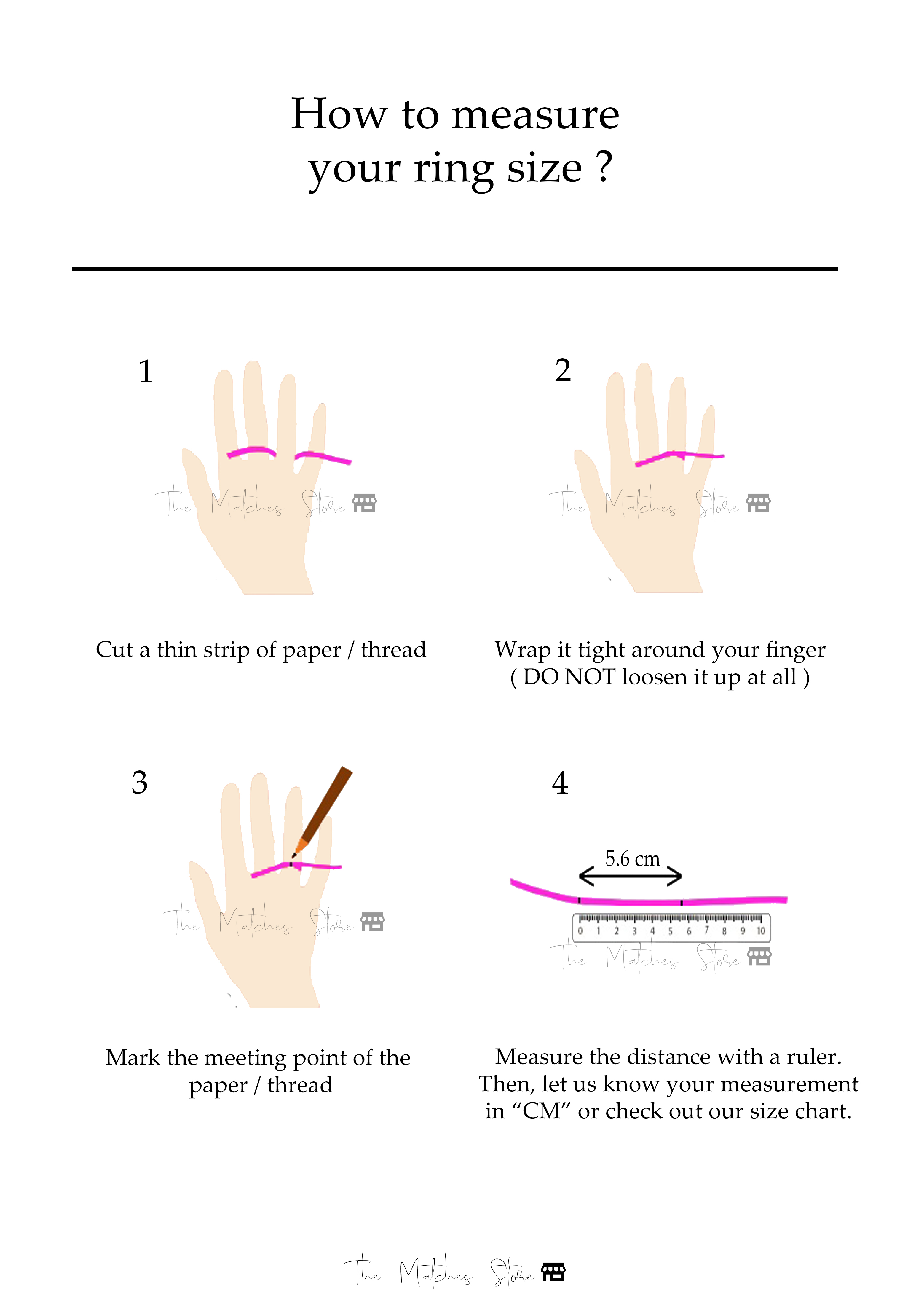 * Kindly note that our rings fit TRUE TO SIZE. Hence, please choose your size 100% accordingly to your measurement . Do not up / down your size as it may possibly lead to wrong sizing issue.
* Size conversions might vary per design and may not fully match the conversions shown above. If you are not sure about your size , please contact us : whatsApp +601121111688 (CLICK HERE)




How To Put On Ring Adjuster






WHAT'S IN THE BOX
** For Women ring / Men Ring
1 x TMS Ring


1 x White Hard Box with TMS logo ( Small box )


1 x Thank you card


1 x Polishing Cloth


1 x Ring Adjuster


1 x Anti Tarnish Paper


2 x Product Care guide


1 x Size Exchange Guide




** For Bracelet / Necklace
1 x TMS Bracelet / TMS Necklace


1 x White Hard Box with TMS logo ( Small box )


1 x Thank you card


1 x Polishing Cloth


1 x Anti Tarnish Paper


2 x Product Care guide


1 x Size Exchange Guide




** For Couple Set
1 x TMS Men Ring


1 x TMS Women Ring


2 x White Hard Box with TMS logo ( Small box )


2 x Thank you card


2 x Polishing Cloth


2 x Ring Adjuster


1 x Anti Tarnish Paper


4 x Product Care guide


2 x Size Exchange Guide




** Bracelet Set / Necklace Set
1 x TMS Bracelet / TMS Necklace


1 x TMS Ring


1 x White Hard Box with TMS logo ( Big box )


1 x Thank you card


1 x Polishing Cloth


1 x Anti Tarnish Paper


2 x Product Care guide




** For Gift Box Set
1 x TMS Bracelet / TMS Necklace / TMS Ring


1 x Gift Box


1 x Thank you card


1 x Polishing Cloth


1 x Ring Adjuster


1 x Anti Tarnish Paper


2 x Product Care guide


1 x Size Exchange Guide



** For Gift Box
1 x Gift Box


Thank you card
REAL SILVER VS FAKE SILVER